During the current COVID-19 pandemic situation, CSU is following CDC/WHO guidelines and taking the safety of our employees and customers as a top priority. Our blog posts in the coming months address topics to help you keep working safely as we face this difficult time together. Have questions? Give us a call at 703-722-8791.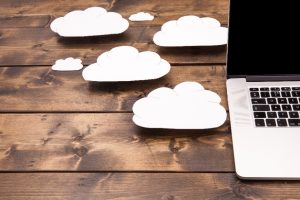 The COVID-19 pandemic has brought with it mandatory restrictions, which have caused many small businesses to close their physical doors and hit pause on their work. Others have been able to find ways to adapt to the unexpected changes with the benefit of cloud computing, and—maybe even more unexpectedly—are finding that that cloud computing will continue to benefit their businesses even after the restrictions are lifted.
So, why should your small business consider cloud computing resources delivered by a trustworthy managed IT services partner like Computer Services Unlimited? Read on to discover the biggest benefits you may be missing out on today.
What Is Cloud Computing?
Simply put, cloud computing refers to computing services (such as applications and storage) delivered over the internet. Be sure to check out our infographic that covers the basics of cloud computing for small business owners to learn more. 
What Exactly Are the Benefits of Cloud Computing?
1. No Loss Of Productivity
Since cloud computing is internet-based, any employee with a device, internet connection, and log-in credentials can access company documents, data, and software from anywhere at any time as if they were in the office. Having cloud infrastructures in place will help your business be prepared for emergencies like natural disasters, including more long-term challenges like the current pandemic.
2. Cost Savings
Internet-based computing means that your business does not have to purchase hardware equipment that needs to be maintained, repaired, or replaced. Since your business would not have hardware equipment to house, you can save on office space. And, cloud computing saves money because you only pay for what you use. Additionally, allowing your employees to work at home further reduces the need to pay for office space.
3. Happier Employees
Many employees are discovering how much easier life is when they are not tied to an office every day and are seeking out the flexibility to work wherever is best for them. Happier employees mean greater productivity and job satisfaction, which leads to employee retention and reduction of onboarding costs. Less time lost to commuting and shuttling children to daycare means less stress for the employee, and often results in more time spent working. 
4. Additional Security
Cloud computing can have additional security added to protect against security breaches and data loss. Backups are automatic, and data in the cloud is safe from fire and natural disasters. Since data and software don't "live" on hardware, theft and human error are minimized. 
5. Flexibility
Cloud computing can offer your business the flexibility to grow without physical constraints. You can add new employees without worrying about your office location or limited space—or unexpected quarantines. You can utilize the expertise of specialists or freelancers as needed, and these as-needed workers can use their equipment—all they would need is log-in credentials. 
6. Collaboration
Cloud computing can offer efficiency because your employees can collaborate on projects regardless of their location and without any loss of data integrity. Your employees can still work as a team, benefitting from the sort of creativity that comes from sharing ideas. There is no downtime waiting for one person's contribution; changes and additions to projects can be shared as they occur. Even more exciting is the possibility of global collaboration as there are no limits to time zone or zip code. 
7. Easier Client Visits
First (and second, and third) impressions are crucial to the success of a business, and being prepared for any situation can set you apart from the rest. Cloud computing means that you can have all your information at hand to showcase what you have to offer or answer any questions your client may have. There's no worrying about remembering to bring binders and folders when everything you need is easily accessed on your laptop or other mobile devices. 
8. Smaller Carbon Footprint
Cloud computing could reduce your business's carbon footprint, which will have long-lasting benefits for everyone. Not having an in-house data center means that no energy is needed to cool the hardware. Additionally, no resources were required to build the hardware, and no fuel was needed to transport it to your office.
As more employees will be able to work from home, office space can be reduced (or perhaps even done away with), which lowers the need for additional energy for utilities and in-office resources. Remote work also eliminates the fuel used for your employees' commuting.
Ready to Get Started with Cloud Computing in the DC Area? Call CSU Today!
These are just some of the benefits of moving your small business to cloud computing. Computer Services Unlimited can help you decide which cloud platforms best suit your needs now, and as your business grows.  Contact us for your FREE 30-Minute Network Audit and consultation regarding how we can help your business continue to thrive.