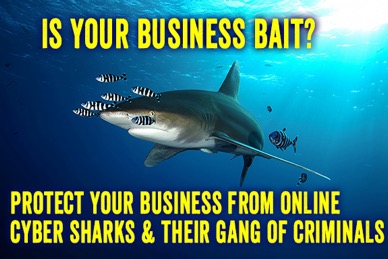 Find out if your passwords are for sale on the dark web
If you want to prevent your business identity and credentials from being stolen by cybercriminals and showing up on the Dark Web, this guide is a MUST-read!
This valuable guide will include:
The top 3 ploys used by online thieves to easily gain access to your business information, and how to avoid them.
10 sneaky e-mails used to steal your identity that you should IMMEDIATELY delete if they land in your in-box.
The top 4 ways cybercriminals use your credentials once they get them and the telltale signs that they have yours.
Don't let your business get hooked – simply fill out the form to have immediate access to: How to Protect Your Business from Online Cyber Sharks.
Special Bonus: In honor of Shark Week's 30th Anniversary, during the month of July, we are offering a free Dark Web Security Scan that will tell you if your business's user names and passwords are for sale on the Dark Web.