Get Reliable and Crystal-Clear Calls with VoIP Phone Services in Fairfax, VA
Is your current phone system not keeping up with the demands of your business? Do you find your company is missing calls or—worse yet—sales due to lacking functionality or features? A new VoIP phone system from Computer Services Unlimited may be in order.
As a leading provider of VoIP phone services in Fairfax, VA, CSU can replace your outdated phone system with one that gives you the versatility to make business calls on the go, teleconference with ease, and much more. An aging analog landline phone system, such as a public switched telephone network (PSTN), can be a major headache for any small business. These traditional, older-style systems are incredibly outdated and lack the versatility required by an ever-changing business landscape.
Additionally, with so many organizations moving their workforces to either part-time or full-time remote environments, it pays to have the flexibility of VoIP phone service. You deserve a solution that moves at the same pace your business does and allows you to grow without limitations.
With our new VoIP solutions in Fairfax, you can rest assured that your business needs will be not only met but far exceeded. Contact us today for a FREE 30-Minute Network Audit and see how our small business phone system can work for your company!

Frequently Asked Questions about VoIP
There are many advantages to switching to VoIP, so it's no surprise to anyone that more businesses in Fairfax are moving from traditional telephone service to a phone line using VoIP technology. As people, businesses, and society become increasingly mobile and want solutions to keep up with their demanding schedules, VoIP is the logical next step for homes and companies alike.
If you haven't yet made the switch from aging analog phones that lead to dropped calls, long wait times, and busy signals for your customers, then it's time to contact a VoIP provider near Fairfax, VA, that can help your business make the switch. At CSU, our friendly staff makes the transition very easy and is there for you every step of the way.
You likely have some questions about business VoIP services, and we're going to answer some of the ones we most commonly hear. If you need more information about VoIP phone services, call quality, or how it works, please feel free to get in touch with us!
What is VoIP Phone Service?
VoIP (Voice over Internet Protocol) phone service utilizes an IP network instead of a traditional phone network. VoIP systems use software, hardware, and a high-speed internet connection to make and receive phone calls. You can call from anywhere using a specialized desk phone, laptop, or even a smartphone with a mobile app.
In many ways, VoIP is the future of phone service in America. More and more phone providers are looking to move away from the expensive cycle of replacing, repairing, and updating older analog systems because the customer base that uses them has been shrinking for years.
It's interesting to note that 67.2% of households rely solely on their wireless phones, according to a 2021 finding by the U.S. Health Department. The percentage of households that choose only to use a landline is a tiny 1.9%—embracing the future of VoIP isn't a matter of if, but when.
You can learn even more about VoIP phone services in Fairfax, VA, and how to select a provider by reading Buying VoIP.
How Do VoIP Phone Calls Work?
VoIP phone calls come through your internet connection rather than using a traditional landline or mobile network to make calls. VoIP converts your voice into a digital signal, compresses it, and sends it over the internet to the recipient.
Choosing CSU is a no-brainer for businesses looking for VoIP phone services in Fairfax, VA. We'll not only set up the technology needed to make this phone plan work for you, but we'll also train your staff to get the most use from the system. Plus, we'll be there for you whenever you need us for troubleshooting, updates, and more.
How Is the Quality of VoIP Phone Calls?
The quality of calls is outstanding with VoIP phone systems. With traditional and mobile phones, your voice is transmitted in standard definition. This level of quality means that your voice can be affected by noisy surroundings, poor coverage areas, and dropped calls. In contrast, VoIP transmits your voice in high definition, so calls are clear and crisp, no matter if you're calling a person in the local area or using long-distance calling.
What Do I Need to Setup VoIP for My Business?
You will need access to the internet to use a VoIP phone system and the specialized software or hardware to make a call. The hardware to make phone calls includes specialized desktop phones, laptops, and mobile devices. Like specific mobile or desktop apps, the software allows you to take your VoIP services anywhere in Fairfax, VA, and beyond.
How Can VoIP Phone Service Benefit My Business?
A VoIP phone system lets you take phone calls when you're on the go, access customer information quickly, and keep your business moving forward. With optimized technology, your VoIP phone system will never go down because too many calls are being made. This communication technology grows with your business without the need for costly equipment upgrades.
VoIP offers all the same features you get with a landline, like a unique phone number, unlimited calls, and the ability to make and receive calls. You'll also get the many added advanced features that you cannot get with a traditional landline phone.
One of the most significant benefits of VoIP is cost savings. As a VoIP provider in Fairfax, VA, our typical client saves a considerable amount on their phone bill. And if you have multiple offices, make a lot of international calls, or have a heavy call center, the savings can be staggering. Many of our clients have seen drastic per month savings each year just by switching to VoIP.
If you're not happy with your current phone situation because you have outgrown it or need new features, then give us a call today. Let Computer Services Unlimited's VoIP phone service in Fairfax, VA, provide the benefits every business requires with valuable features, the ability to take on your company's workload, and low-cost and easy installation.
Savings
Installing and setting up a new VoIP system in your office is more accessible and more affordable than you might expect. Our trained staff will not only provide all the necessary training to help make the transition smooth and worry-free, but we will also help you find the right solution for your budget. Read more about The Cost Benefits of VoIP.
Clearer Call Quality
VoIP phone systems have clearer call quality because the standard for VoIP phone systems is HD voice. Traditional phone systems use standard definition voice, so the call quality is inconsistent, unreliable, and garbled. Getting VoIP phone services in Fairfax, VA, will ensure you have crystal clear communication between your staff and customers.
Conference Calling
Conference calling can be crucial to your small business if you have remote employees or are on the go. Your employees will have the ability to work from anywhere. Plus, your VoIP system can link directly with your customer relationship management (CRM) software, so you always have the latest information available.
Better Customer Support
Our trained staff is always available to take your calls and troubleshoot any issue you're having. Want to discuss upgrades or additional services for your growing business? Our customer service team can help point you in the right direction! Choose CSU as your VoIP provider in Fairfax, VA, for the best customer support in the area!
Call Monitoring & Recording for Consistency
With a VoIP phone system, you can monitor and record calls for consistency, training purposes, or learning more about how your company utilizes its call time. This feature means that coaching your staff becomes easier, and if you consistently see the same issues across the board, you'll be able to train your employees better.
Greater Communication Flexibility
You can communicate from any location and on most devices. Never worry about missing a meeting or an urgent phone call when your company uses VoIP phone services in Fairfax, VA, from CSU! VoIP can also make screen sharing, emailing client photos, online faxing, and text messaging easy, convenient, and safe for your employees.
Better Customer Data and Insights
Access your customer contact information, data, and insights better than ever before. VoIP integrates with your CRM software, so customer information is always at your fingertips. With better tracking, you can help your business grow by having accurate customer information and valuable insights into your customers' needs to serve them better.
Fewer Disruptions
With so many advanced features using VoIP technology, you don't need to use many programs to get the same amount of work done. With fewer distractions, you can work smarter and focus on what matters most to your business. Plus, you no longer have to be disrupted by the shrill ring of a traditional phone system.
Can VoIP Accommodate a Remote Workforce?
Yes, in fact, VoIP is excellent whether your workforce meets in an office every day or through the internet. Employees can use apps on their mobile devices or desktops to call, text, email, video conference, and even fax their customers and co-workers. So, there's no longer a need to be in the office to be productive. Whether you're out meeting with clients or want to hire an exceptional staff member in another state, VoIP is the solution for you!
Additionally, if there's anything that COVID-19 has taught business owners, it's that working outside the confines of a building is essential to survive. Plus, more businesses are offering work-from-home as an employee benefit, so to stay competitive in today's job market, offering remote work can be highly beneficial to your company.
Not only can VoIP accommodate your remote workforce and save you money while doing so, but you'll also save money in other ways too. By having people work from their homes and not in your building, you'll save on energy costs. With fewer people operating your office machines, lighting, and heating, you'll find cost savings in that aspect too.
And if you're considering allowing your employees to go fully remote, you'll need cloud computing support and more robust network security. When you choose a VoIP provider in Fairfax, VA, that can also provide these services, like Computer Services Unlimited, you'll get reliable, friendly IT services for a flat rate. Using one provider makes it even easier to get the support you need when you need it.
Do Some Industries Benefit from VoIP More than Others?
While VoIP phone services in Fairfax, VA, can benefit many industries, some may see a more significant benefit from switching to this technology. In particular, VoIP features that help small businesses include dedicated business phone numbers, a virtual receptionist, customized on-hold music, and unified communications. Industries that can benefit from VoIP services include:
Call Centers
Travel Agencies
Hotels and Restaurants
Healthcare
Financial Institutions
Airlines
E-Commerce Businesses
Customer Service
Real Estate Companies
Law Offices
Consultants
What Can I Expect from Computer Services Unlimited?
We offer communication solutions with our small business VoIP phone system to help grow your business. Don't let downtime, poorly functioning equipment, or missed calls slow down your business. After a seamless installation, we offer ongoing support, and we'll work with you on pricing to fit your budget. You'll be impressed with our speed and friendliness from the very first phone call to installation and beyond.
You will never have to worry about your VoIP phone system when you partner with the best VoIP provider in Fairfax, VA—Computer Services Unlimited. We monitor and maintain your phone system using remote management tools 24 hours a day, seven days a week, 365 days a year (366 days if it's a leap year).
This high level of support is how we stay on top of your system's uptime so that we can ensure your business's ability to make or receive important calls. Calling your provider to tell them your phones aren't working will be a thing of the past because we'll often know there is a problem before you even do, making fixes quick and easy.
Plus, we are always available to our customers when you need us the most, so if something out of the ordinary should come up, we're accessible to you for reliable, reputable, and quick service backed by a 100% satisfaction guarantee.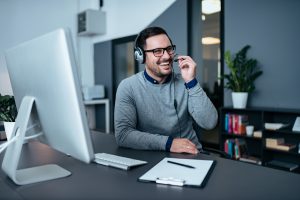 Ongoing Support
Customer support is as important to us as it is to you. We are always available to support your business technology needs as a client, and you will always reach an experienced IT team member, day or night.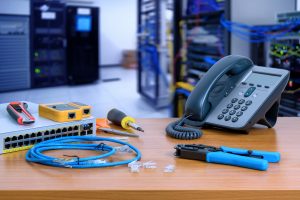 Seamless Setup & Installation
We offer seamless setup and installation by our trained and professional staff. Our experts will install your system correctly and ensure that you and your team have the training and knowledge you need to be successful.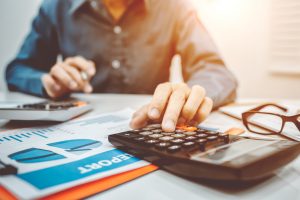 Flat-Rate Services
We want to work within your budget, so reach out and speak with one of our team members about our FREE 30-Minute Network Audit. We will assess your needs and offer you the best solutions within your budget.
Count on Us for VoIP Phone Services for Your Small Business near Fairfax, VA
Here at Computer Services Unlimited, we're proud of the relationships we build and the solutions we provide for our customers—ensuring your business success through our managed IT services. That's why we know you'll love our VoIP phone system for your small business.
Say goodbye to issues like garbled sound or echoes thanks to our system's ability to deliver high-definition call quality and unparalleled performance. Dropped calls will be a distant memory. We guarantee it.
So, if you're a small business and are ready to move to VoIP phone services in Fairfax, VA, give us a call. We focus on clients with 10 to 50 workstations (even up to 100) and work with a broad cross-section of industries. Since small and midsize businesses are our primary focus, we aim to deliver the right IT solutions for SMBs—at all times. These services include everything from managed IT services and IT consulting to on-site and remote computer support and so much more.
If you're looking for a VoIP company near you in Fairfax County, Virginia, give us a call today at 703-968-2600.

I Would Highly Recommend Them To Anyone
I have worked with Computer Services since the company was founded. I have always been more than satisfied with their services and pricing. I would highly recommend them to anyone needing computer services.
Pat Owner, Richter Management LLC, AMS, CMCA

They Consistently Exceed My Expectations
My business has been using Computer Services Unlimited for nearly 15 years. Their professionalism, effectiveness and efficiency to solve problems has always far exceeded my expectations.
Steve Ignite Selling, Inc.
Other FAQs About VoIP
Didn't find the answer to your specific question about VoIP above? Then read on below for answers to a few other frequently asked questions about VoIP. For additional information, please read our blog on the three big steps to finding the right VoIP phone service, or you can contact us to receive a FREE 30-Minute Network Audit where we'll determine what solutions are best for your business.
What's the Difference Between Skype and VoIP?
Skype is a program that uses VoIP technology for video and phone calls. However, using only Skype for VoIP doesn't give you all the support, features, and services that choosing a VoIP provider in Fairfax, VA, can provide.
Is a VoIP Phone System Good for Small Businesses?
Since a VoIP system can go anywhere you go, you'll never miss an opportunity to network or make a sale as a small business. Let a VoIP system grow with your business, and only spend what you need when you need it.
Are VoIP Phone Systems Reliable?
VoIP phone systems are reliable and valuable because you can take them anywhere you have a mobile device or laptop and access to high-speed internet. You don't have to worry about dropped calls or busy signals either.
For the Best VoIP Phone Services in Fairfax, VA, Choose CSU!
Are you ready to bring your business into the future? Then it's time to get in touch with Computer Services Unlimited! We'll never force you to buy features that you don't want or need, so you can rest assured that when you call us for VoIP phone services in Fairfax, VA, you won't need to haggle. Plus, the installation will be easy, and we'll even train your staff on how to get the most from this technology.
Get in touch with us today to set up your FREE 30-minute Network Audit, and we'll assess all the ways and cost-savings your business will get from switching to VoIP with CSU from another provider or outdated landlines.